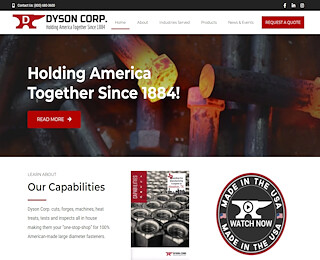 The mining industry utilizes a number of heavy-duty machines and tools that must be strong and durable. Typical tools aren't strong enough or durable enough to withstand the extremely tough circumstances of mining. When you are in need of fasteners you need the best mining bolts and nuts that are made specifically for your industry. There are a number of different types of fasteners that you may need.
Fasteners for the Mining Industry
Working in the mining industry is difficult and dangerous. You need to count on the machines and tools you use to withstand the many demands of mining. Every part of the machine or tool has to be strong and durable to ensure proper function as well as to keep workers safe from harm. If a bolt or other fastener fails it can cause a serious and hazardous situation. That's why you need to make sure that you purchase the mining bolts and nuts that are made specifically for your industry.
There are many different fasteners that you may need. These include taper and liner bolts, eye bolts, clevises, sealing nuts, locking nuts, hex bolts, studs, nuts, cap screws and threaded rod. Mining bolts and nuts are made using a forged process that makes them incredibly strong. They can hold up to the heavy use and pressure that they are under in the mining industry. They are ideal for both above ground and underground mining operations.
Our in-house capabilities include forging, heat treating, testing and machining that allows us to offer a wide selection of mining bolts and nuts along with many other fasteners for your industry. Our taper and lining bolts are available in all head configurations.
Exclusive Mining Bolts and Nuts
We offer an exclusive D-LOC sealing nut and M-LOC mechanical locking nut. These nuts are designed to provide an extremely durable and resilient fastener for your mining needs. Our products are available in a wide range of materials and coatings.
Our materials include carbon, alloy, stainless, nitronic, monel, inconel, titanium, brass, bronze and copper. The available coatings include zinc, cadmium, phosphate ceramic, chrome, copper flash, black oxide and others. Our spec sheet details the many available choices that you can pick from when placing an order.
Our fasteners are available in many standard diameters and lengths. We have a range of products that are designed for the mining industry. These are made in sizes that are most frequently required in mining. There are threads and other features that will meet the demands of the mining industry. It is important to choose the correct fasteners for the needs of a particular job or repair.
In addition to our large range of fastener sizes, we are also able to make products for critical application and alternate sizes based on your specific request. Custom forgings are available. We understand the fastener business. We have been making domestic fasteners and forgings since 1884. Our high quality products are able to withstand the needs of every industry, including the mining industry.